Hello everyone! This is Kasey and Eric, Tapestry's new web and marketig team, and we are so blessed to be introducing ourselves to you. We are a young couple that hails from Detroit (so you know that we know how to build things) and we're excited to become part of the team and mix things up with Tapestry.
When you see our stamp below the blog post that means that it has a little bit of our flavor and a little bit of our spice. We're so blessed to be in the Tapestry kitchen mixing things up and trying some new recipes out. We're the ones who are going to be with you on Facebook and Twitter so shout us out @TapestryFineArt and #Tapestry - Join us as we bring Tapestry into 2012 and bring you along with us!
Blessings,
Kasey & Eric
Posted on September 28, 2012 6:04 PM
Read Full Post | Comments: 0
Our famous Ron DiCianni Calendar is one of our most popular items, so popular in fact that our website can no longer contain it. We are officially launching our Ron DiCianni Calendar website! Even better, to celebrate this launch, we want to give you one! That's right, a BUY 1 GET 1 FREE promo!
This incredibly designed calendar is Ron's best yet. Featuring 13 of his paintings, many never released before as prints, exclusive artist notes, Scripture and much more, we really think this calendar is a our finest ever released.
The Ron DiCianni Calendar is a beautiful way to manage your life and stay in touch with your Lord and His Word. Buy your copy today and enjoy your free calendar to give to a friend, spouse, co-worker, or anyone who keeps track of their life!
Purchase your copy here and receive your second copy FREE while this offer lasts!
Posted on September 22, 2012 5:58 PM
Read Full Post | Comments: 0
September 11th
is a day that will forever live in American History. Although we often remember is as a day of tragedy and terror, it is ultimately a day of hope. A hope that we as a nation would pull through, a hope that perpetrators would be brought to justice, and a hope that the broken would be healed. Heroes were born and perished in the same day. Families were devastated and even in the midst of the tragedy, somehow, families were born.
We each remember vividly where we were on that fall day of 2001. So, as you stop to remember the heroes, victims and all those who were affected, let us not forget how that day also brought us to our knees as a nation before
Almighty God
and reminded us that we must stand as
One Nation Under God
, lest we fall as many apart from Him.
salute to those heroic Military, Fire, Police and

EMS

personnel
that served and perished 11 years ago as well as to all of our
Everyday Heroes
who risk their lives daily for the chance to defend and save ours. To that end, we present
the Heroes Series
, 4 paintings capturing the essence of the valor, service and sacrifice that is their gift to a grateful nation.
While only a small acknowledgement, Tapestry Productions is pleased to present a year round
25% discount
to any Active or Retired Military, Police, Fire or
EMS
personnel and their families.
Posted on September 9, 2012 11:08 AM
Read Full Post | Comments: 0
The following post comes from our good friend Ray Comfort at Living Waters. If you are not familiar with this wonderful organization please visit their website LivingWaters.com and also their pro-life initiative at 180Movie.com.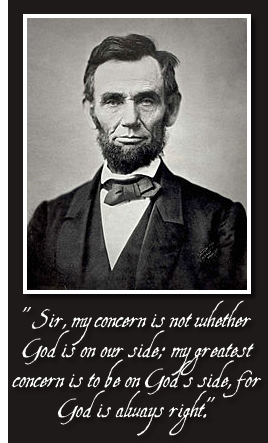 The Democratic Party's flip-flop and the resulting anger and confusion about whether or not to put reference to God into their platform, highlighted the great weakness in our political system. The Yes and No vote is reminiscent of another vote that was taken 2,000 years ago, which resulted in the one-man steering committee washing his hands of the whole process.
This is what happens when a nation abandons the Bible as its moral guide. It has no rudder in the stormy sea of human opinion, so it is driven by whatever wind blows the hardest. When the Bible is abandoned, the question is asked, "Is killing a child in the womb morally okay?" The answer comes from those who yell the loudest. The same applies with homosexuality and other moral issues. Abraham Lincoln once said, "Our government rests in public opinion. Whoever can change public opinion, can change the government..." That becomes a weakness and not strength, when the Bible is left out of the equation.
The Scriptures are "a lamp to our feet and a light to out path." When they are ignored we are left in moral darkness and we will soon forget the truth of the words "God mend thine every flaw, Confirm thy soul in self-control, Thy liberty in law!" Thomas Jefferson said "The greatest danger to American freedom is a government that ignores the Constitution." I propose a small amendment to his words. They should read, "The greatest danger to American freedom is a government that ignores the Scriptures and treats the Constitution as though it was the Word of God."
This fiasco should also remind us of Lincoln's, "Sir, my concern is not whether God is on our side; my greatest concern is to be on God's side, for God is always right." Check this out: www.180movie.com.
Are you pro-life? Then be sure to check out FormedYou.com and get involved to put an end to abortion.
Posted on September 7, 2012 6:43 PM
Read Full Post | Comments: 0
...to get the incredible new painting Before I Formed You in the Womb at a whopping 45% discount! After the 1st, the price jumps back up to it's release price!
More then just an opportunity to buy this incredible new print at an incredible price... you have the opportunity to do something special: Take a stand for Life.
Most pro-life ministries work with a shoe string budget. On the other hand, Planned Parenthood gets $11 a second from the government. Sound right to you? That's your money killing babies.
The launch of Before I Formed You has a great plan in mind... generating funds for Pro-life ministries. Every purchase you make results in a significant donation to pro-life causes.
A great painting, a great price, a great message and a great cause. What could be better!
Posted on August 31, 2012 10:38 PM
Read Full Post | Comments: 0